Topopens Milestones and Highlights in 2021
Reading Time: 4 Minutes approx. – 27/12/2021
Throughout the year, the team at Toposens has accelerated towards the mission of building safer and more reliable AGVs by successfully manufacturing the world's first 3D Ultrasonic Echolocation Sensor system. Amid the ongoing pandemic, we continued with resilience and are proud of our achievements. In this blog article, we will review the highlights of what has happened at Toposens with you and look forward to carrying our important mission into 2022! 
Product Launch – ECHO ONE DK

Toposens has officially launched its new 3D Ultrasonic Echolocation Sensor for 3D Collision Avoidance. The industrial-grade sensor development kit, called ECHO ONE DK, is the next level development based on the company's proven 3D ultrasonic technology, which mimics a bat's echolocation techniques.
Unlike existing sensor technologies which can be negatively impacted by lighting conditions or moisture (such as fog), Toposens' ECHO ONE DK uses echolocation to generate robust, real-time 3D echolocation data to guide autonomous systems across a variety of applications. The performance of this 3D Ultrasonic Sensor is particularly robust in harsh environments (featuring the IP67 protection rating), as it is dirt tolerant and not affected by dust, smoke, and mist.
Toposens Team has Grown to 30 Colleagues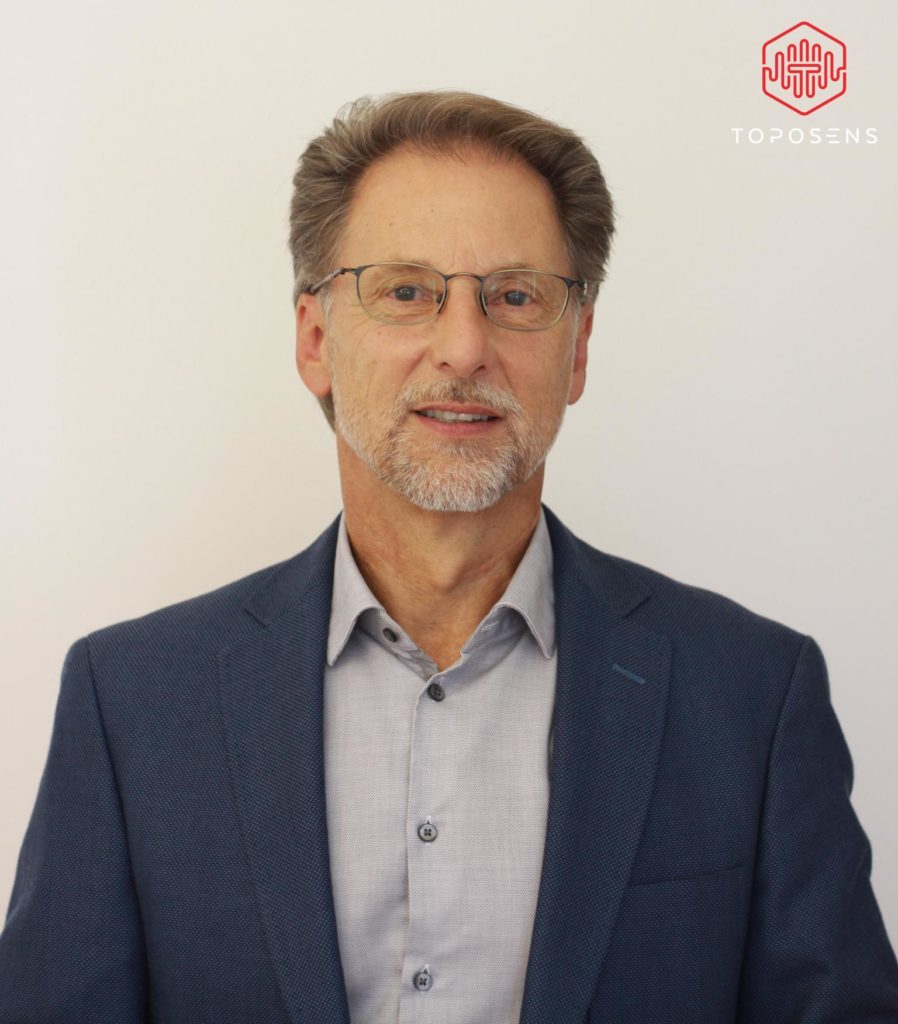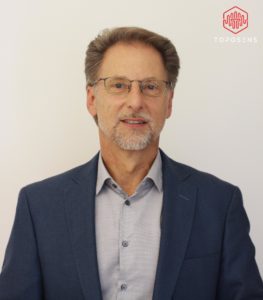 This year Toposens has grown to 30 colleagues with 21 new members starting their journey with us. January saw us welcome Harry Strasser to the Toposens board. Following his initial support as an executive advisor, Harry Strasser has now taken over the role of executive chairman of the board guiding Toposens´ strategic and operational development.
Further, we saw our embedded software, robotics, and hardware teams getting ramped up to accelerate our product development. Besides, our business development and marketing teams also welcomed new members who are passionately handling our global customers and make sure that our brand and products are known and recognised internationally.
Read more about Toposens here.  
Successful On-Site Tests for AGVs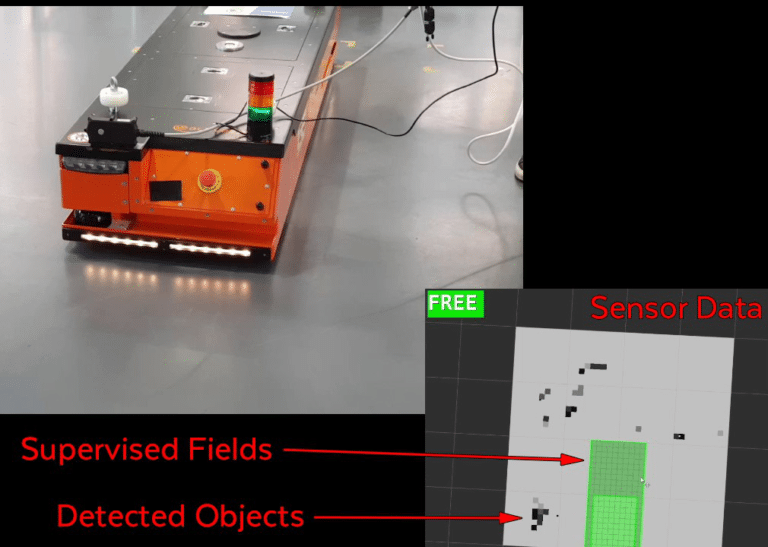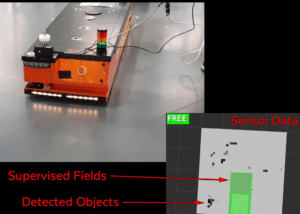 Despite ongoing uncertainty due to Covid-19, we were able to successfully execute numerous product testing phases with leading global AGV brands in industrial environments. We are thrilled with the positive results and feedback we received for solving existing short-range sensing issues of AGVs, and look forward to continuing our important work with leading AGV brands in 2022.
Read more about our innovative technology here. 
Launch of New Website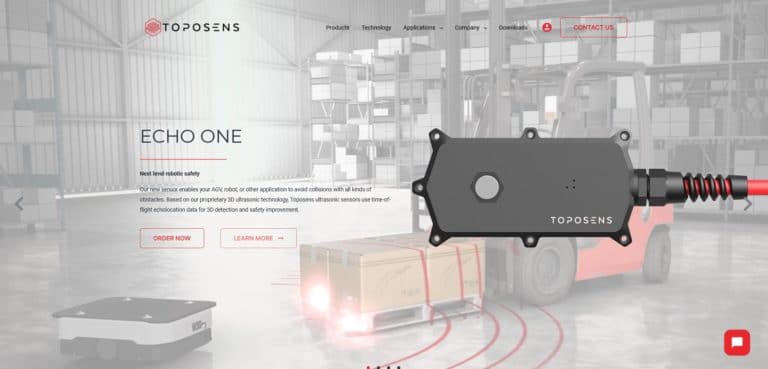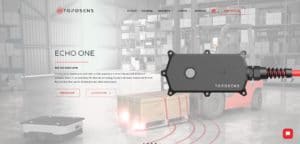 Along with the launch of our ECHO ONE DK, we have also launched a brand-new website. The reason for this relaunch was mainly to create a platform on which new and existing customers, as well as everyone interested in our technology, can easily navigate their way through what we do and what we stand for here at Toposens. Offering a more personal experience is of utmost importance to us and we are delighted with the response we have received.
Experience our new website here.
Awards and Recognition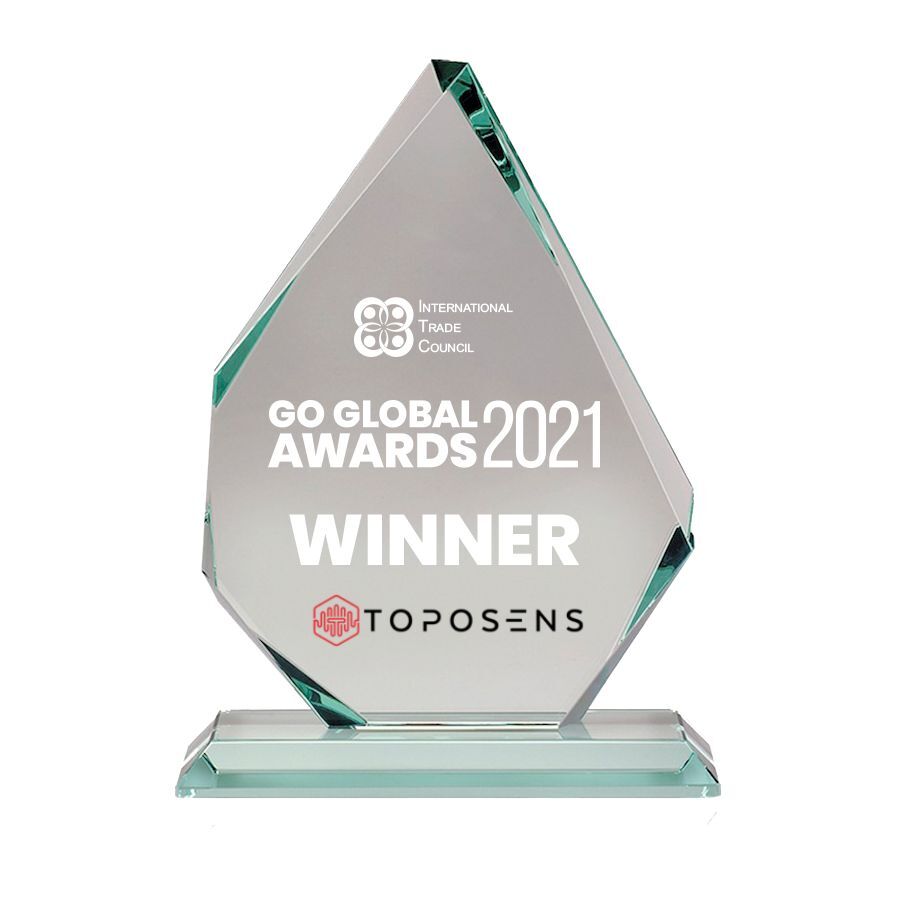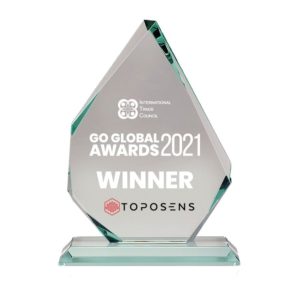 This year has seen our technology being recognized with several awards, reflecting the importance of what we do: We achieved 2nd place at the 'Go Global Awards' 2021 by the International Trade Council in the robotics category and received the 'Truly Innovative Tech' Award by Electronics for You in November 2021. Further, Toposens was recognized as one of the best start-ups in Munich and Germany by Top 50 Start-ups and Statzon. 
Showcasing Our Technology at Events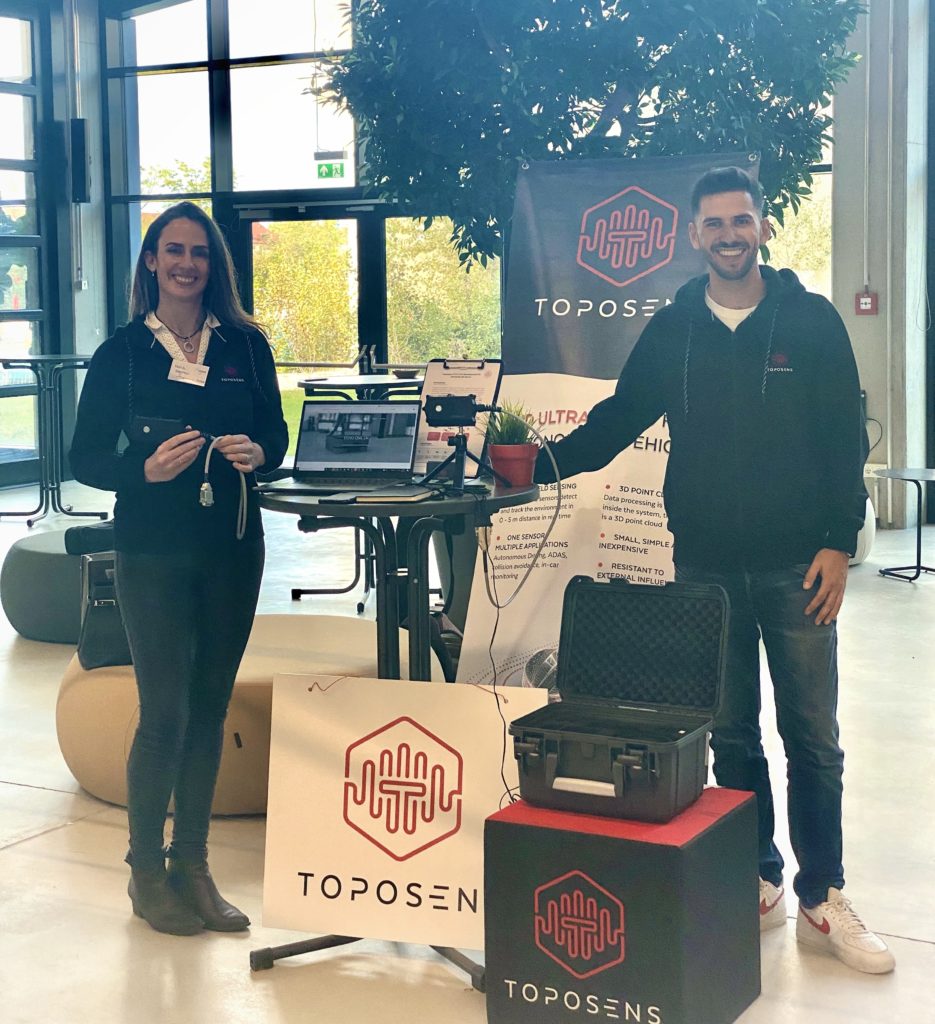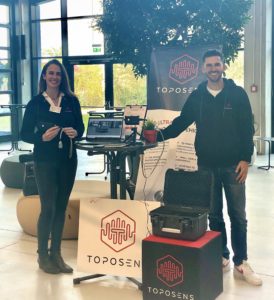 This year has been dominated by virtual events due to reasons known to us all. So beside the virtual ones, we managed to attend several in-person events, where we presented our new ECHO ONE DK. Owning to the complexity of a high-tech product, the best way of demonstrating it is at physical events and exhibitions. With this in mind, we attended events such as the VDMA  "Ecosystem Journey Start-up Innovation", where our marketing manager Maria Degmair demonstrated the capabilities of our innovative sensor technology. Another event hosted by the VDMA, the "Start-up Summit", was a great opportunity to network with various robotics – and automotive companies, discussing with them how our innovative sensor technology can help their AGVs and similar robotic systems achieve next-level robotic safety through advanced 3D collision avoidance.
Various Patents Filed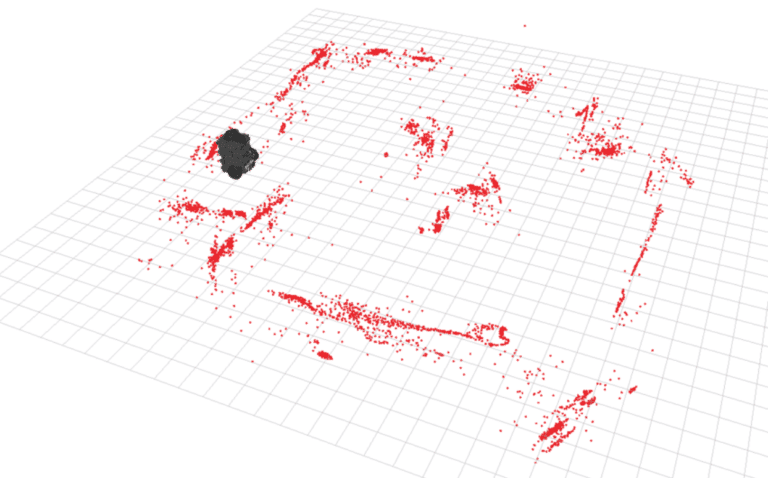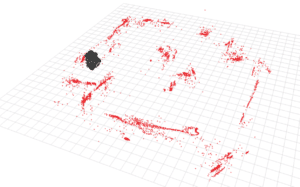 We are proud to further push the boundaries and be at the forefront of the 3D ultrasonic sensor technology by filing several patents in 2021. We will continue to lead the development of ground-breaking ultrasonic echolocation technology in 2022 to enable next-level robotic safety.
Release of 3D Collision Avoidance Software Stack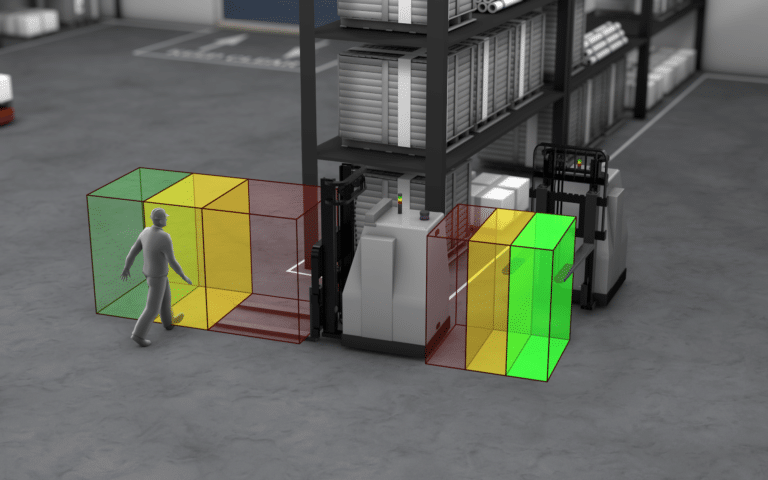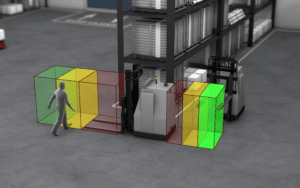 Toposens 3D Collision Avoidance software enables our customers to set different warning (yellow) and stop (red) zones, that will command the AGV to reduce its speed or to stop if an object enters the zone while the robot is moving. The zones can be configured to different sizes and heights to meet the need of the specific AGV characteristics and the relevant environment the robot is navigating in. Additional features such as speed or turn-based dynamic adjustment are currently being implemented and will be released soon.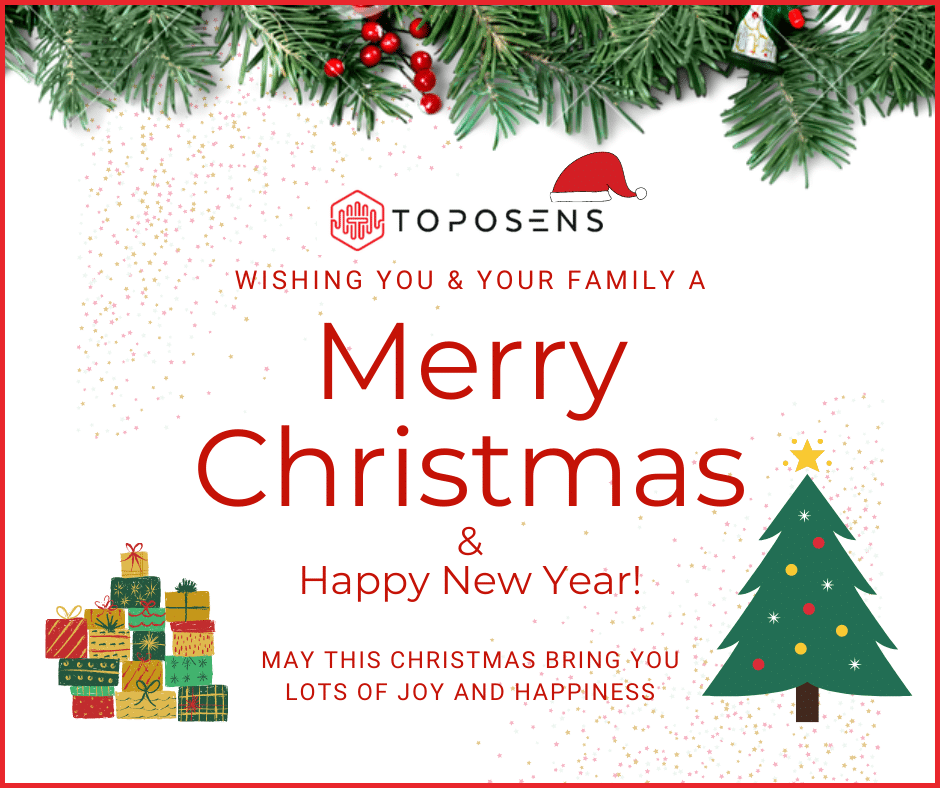 About Toposens
Toposens GmbH was founded in Munich in 2015 and is made up of experts in embedded systems, hardware development, 3D sensing, digital signal processing, and machine vision. Together, they have successfully developed the worlds-first 3D Ultrasonic Sensor based on the principle of bionic, mimicking the echolocation techniques of a bat, to deliver robust, low-cost, and precise near-range 3D data points. Unlike existing sensor technologies, which can be negatively impacted by light conditions, reflections, and weather, Toposens created a system using real-time 3D data mapping and object recognition software to guide autonomous systems such as AGVs, even in the most difficult environments. Clients of Toposens include some of the world's leading companies in robotics and automotive. The company is an active accelerator in the development of safety-critical autonomy and is based in Munich, Germany with a presence in Sunnyvale, California. To learn more, visit www.toposens.com/ and if you are interested to know more about our unique 3D ultrasonic sensor and its applications, please get in touch with our experts.