Cutting-edge sensor technology is needed for the future of automated processes
A sensing solution for 3D positioning and distance measurement doesn't have to be costly.
Locate multiple objects in three-dimensional space

Locate object positions in 3D, based on proven ultrasonic technology

Detect objects in the dark, through dust and dirt and in varying lighting conditions

Use our robust, energy efficient sensor systems in a wide variety of industries
Bringing an innovative sensor technology to the market
We understand, that complex projects require reliable and robust, yet still cost-efficient solutions
We have worked with more than 100 companies in a wide variety of industries
Partnerships with companies like Murata and Infineon allow us to use high quality components for our sensor systems
Revolutionary sensor technology based on the proven functionality of ultrasonic systems
Opinions regarding our technology
"Toposens' […] algorithms enable a small ultrasound sensor system to turn its surroundings into a '3D ultrasound map'. The game-changing technology can be used for collision avoidance of autonomous vehicles, people tracking in smart buildings and gesture control for consumer electronics."
– Engineer Live
"[…] these 3D sensors achieve a field of view of up to 160° and provide simultaneous 3D measurements for multiple objects within the scanning area."
– TechBriefs
"Through powerful software, the sensor enables the precise detection of objects in real time […] This completely new method of positioning generates new ways […] of seeing the world via sound as a digital image in real time."
– IEN
1. Contact us
Contact us via e-mail or phone and mention your application.
2. Discuss your requirements
We will discuss the requirements and the use case with you.
3. Get your sensor solution
Get an offer for your sensor solution or start your project with us.
Future of ultrasonic sensing
The Toposens technology helps you to locate multiple objects in three-dimensional space.
Advanced Ultrasonic Sensors use sound to support robust, low-cost and precise close-range 3D vision for emerging technologies, such as autonomous driving, robotics and smart-buildings.
Keep in mind that our sensor system is in early prototype status.
Read more

Unlike existing sensor technologies that can be negatively impacted by light conditions, reflections, and weather, Toposens sensors use echolocation to generate robust, 3D data to guide autonomous systems across a variety of applications, even in the most difficult environments.

We at Toposens know that cutting-edge sensor technology is needed to keep up with your increased demand for automated processes. Our experts are proud to provide you with a sensor that solves many of today's existing sensors' challenges, enabling you to realize your application.

Take a look on our applications to get to know about the possibilities of Advanced Ulltrasonic Sensors.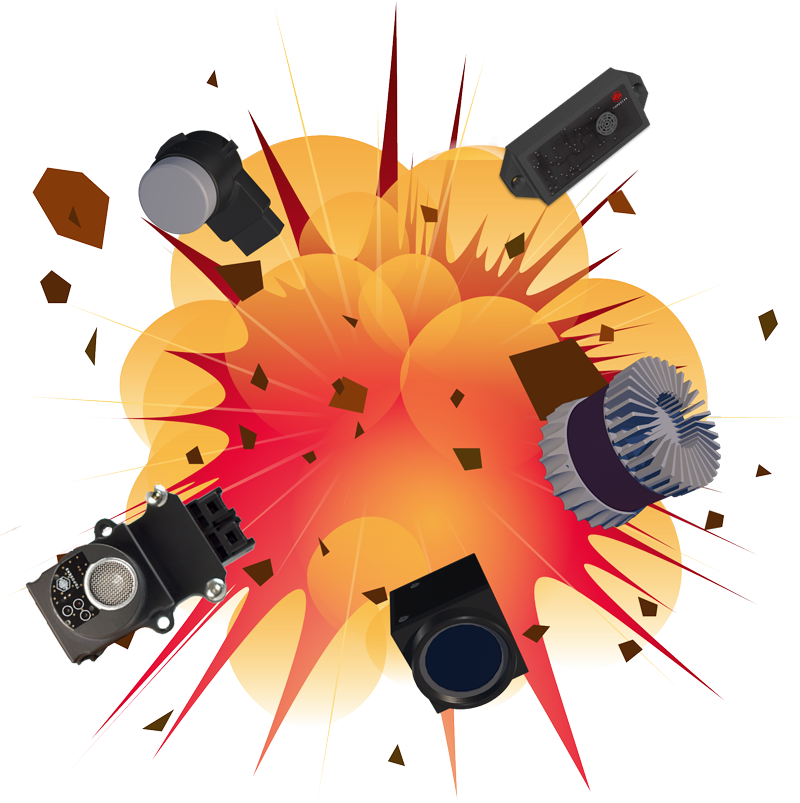 Lost in the sensor jungle?
Never waste time searching for information about sensor types again
Our sensor compendium helps you to find information about common range finding sensors in the fields of robotics, automotive and industry – one handy source, without wasting much time searching the internet.
Learn about the advantages and disadvantages, the functionality and possible applications of e.g. lidar, radar and ultrasonic sensors.
By sending your e-mail you voluntarily register for our free NEWSLETTER. Here we send you exclusive tips, news from the sensor market and current offers. You understand and voluntarily agree that Toposens may use your information in accordance with our Privacy Policy.