How our two most important exhibitions of 2022 changed the game.

Reading Time: 3 Minutes approx. – 28/10/2022
This year has brought the personal aspects of networking back, much to the delight of industries and professionals. Exhibitions have re-opened their doors and made face to face exchange and knowledge transfer possible again. For us this meant that for the first time after a long break, we were able to showcase our 3D Collision Avoidance System. As anyone in the high-tech industry will be aware of, there is no better way of illustrating the USPs of a hardware / software innovation and highlight its benefits then live demonstrations.
Toposens at LogiMAT 2022
All the more reason for us to choose LogiMAT as THE most important exhibition of 2022 for our target industry, mobile robots within the logistics sector. Over the years, LogiMAT has turned into the world's most important international trade fair for intralogistics solutions and process management, having taken place at Messe Stuttgart from 31st May to 2nd June 2022. With well-known manufacturers of mobile robot equipment present, it was the perfect opportunity for us to present live demos of our 3D Ultrasonic Collision Avoidance Sensor ECHO ONE®.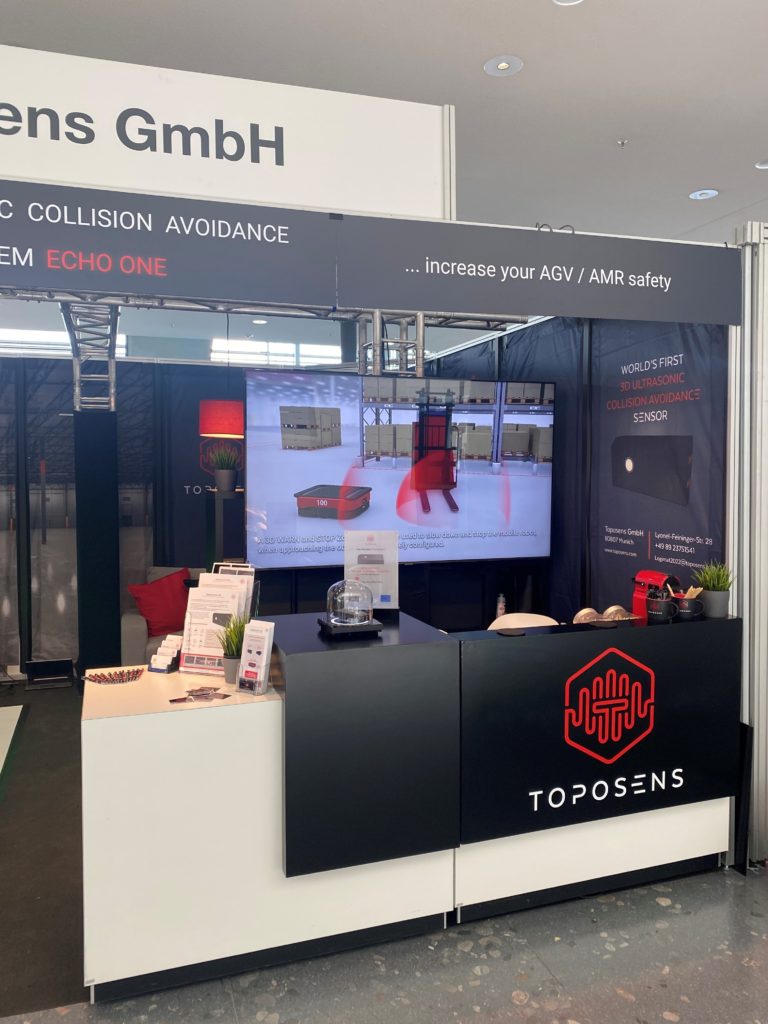 With providing next-level robotic safety at the heart of our development efforts here at Toposens, it was a fantastic opportunity to catch up with old faces and meet new ones alike, identifying their needs and market pains. The "why" of what we do seems ever more evident: conventional 1D and 2D sensors lack the detection capabilities needed for collision avoidance in 3D space, which poses the number one cause of collisions in mobile robots. The all-important 2D safety LiDARs, providing critical safety parameters for person safety, should always be incorporated into any effective mobile robot system.
As their name suggests, however, they can only detect on one horizontal plane. Any object located below or above a two-dimensional scanning plane of a 2D sensor goes undetected, calling for an urgent need to add additional 3D detection and ranging sensors to a mobile robot platform, such as 3D optical sensors. Based on their physical properties, however, their performance can be affected by unfavourable light conditions and object surface properties, like mirrored or transparent objects. Sound-based sensors on the other hand can compensate these potential drawbacks of optical sensors, being capable of detecting multiple objects regardless of light or object surface.
We were overwhelmed by the vast amount of industry professionals and experts in sensor technology visiting our booth and engaging in our technology. Our demonstrator was certainly the highlight of the stand set-up. Built in-house, it featured a mock-up of the front of a mobile robot housing the ECHO ONE®, including a marked detection floor space extending to the front of it and a beamer just above casting the warning and stopping zones onto the detection area below.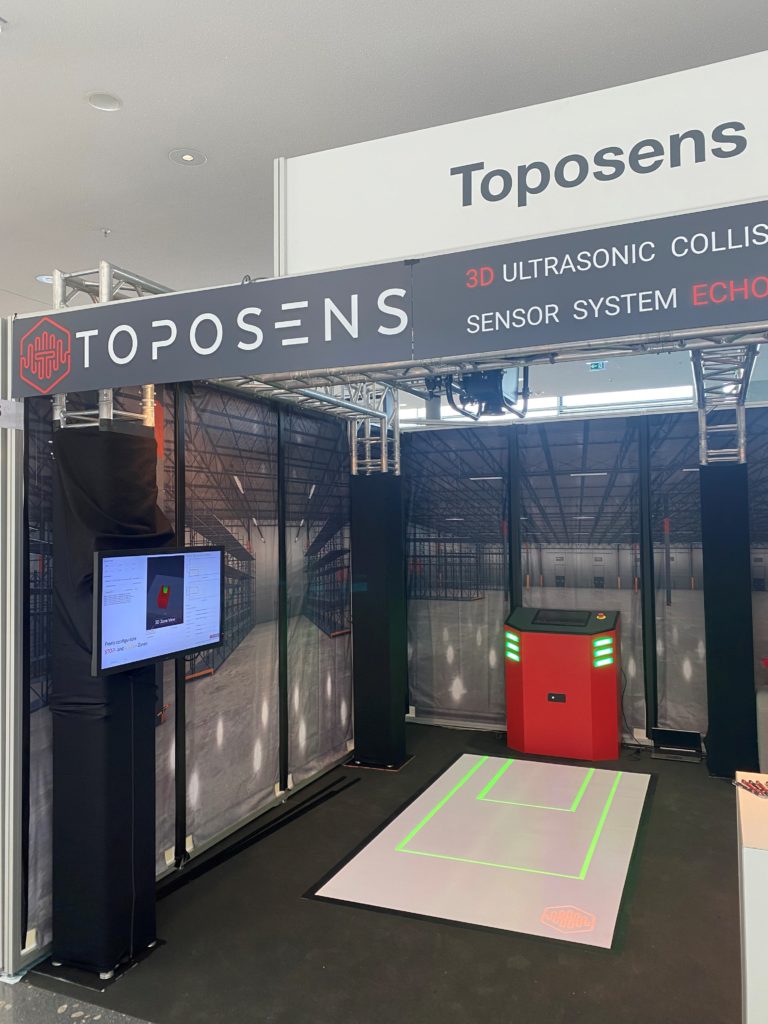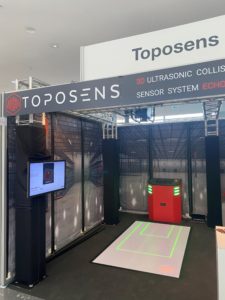 Booth visitors were invited to observe the sensor detect multiple objects in 3D space whilst the respective zones signalled these zone violations as and when they occurred. Any objects detected within the outer warning zone would cause the Toposens Processing Unit (TPU) to trigger a "slow-down" command, turning the warning zone from green to red. Any items detected within the inner stopping zone would cause the TPU to trigger a "stop" command to a mobile robot, turning the inner zone from green to red.
Upon removing the objects, the zones would switch back to green following the TPU trigger a "drive on" command to the mobile robot. Regardless of the type of object placed in front of the mock-up, the two zone violations could be identified. Have a little guess: What do you think was the smallest detectable item we have tested? A tiny USB dongle, placed on the floor no less!
All in all, LogiMAT turned out to be our most successful exhibition of the year and it won't come as a surprise that we are already looking forward to next year's LogiMAT 2023, taking place from 25th – 27th April 2023 at Messe Stuttgart.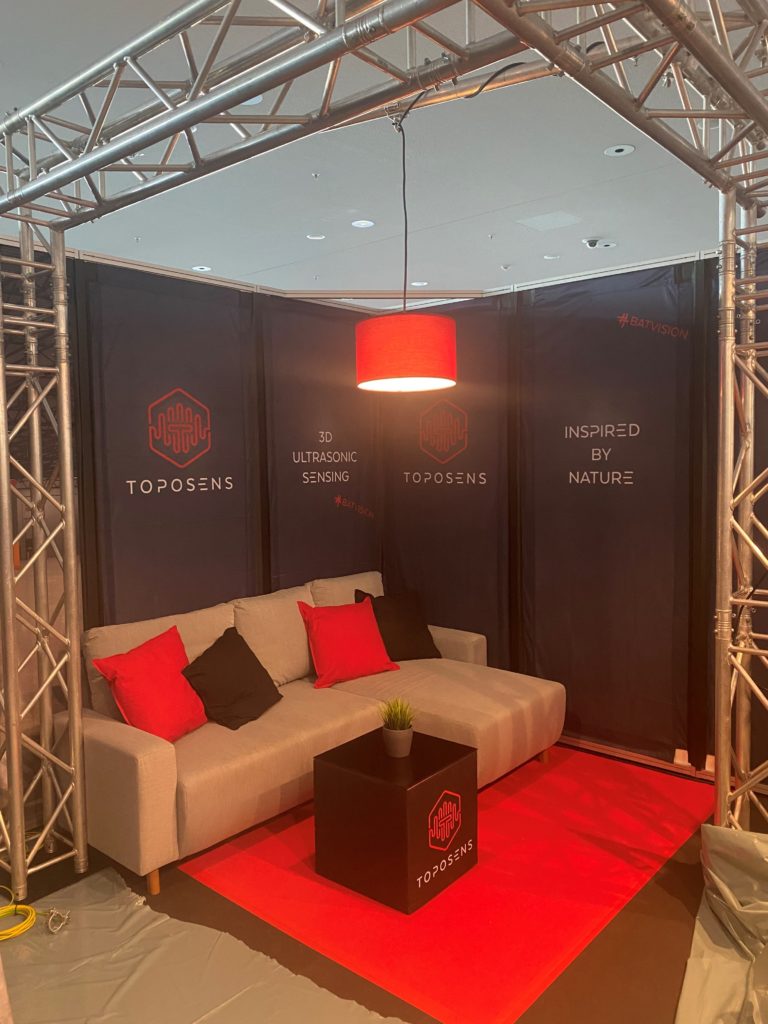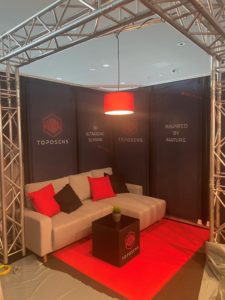 Toposens at Automatica
Another important exhibition we weren't going to miss was Automatica 2022 which took place from 21st to 24th June. Opening its doors on home soil at the Trade Fair Centre Messe Munich, we seized the opportunity of a home game and secured ourselves a stand in the Start-Up Arena courtesy of FundingBox.  Albeit the booth was considerably smaller than at LogiMAT, owing to the start-up landscape, we were nonetheless able to showcase our ECHO ONE® in a slightly more compact setup. Being the world's leading trade fair for smart automation and robotics, the visitor profile was more diverse than at LogiMAT and with this, we could identify possible new applications of our 3D ultrasonic technology.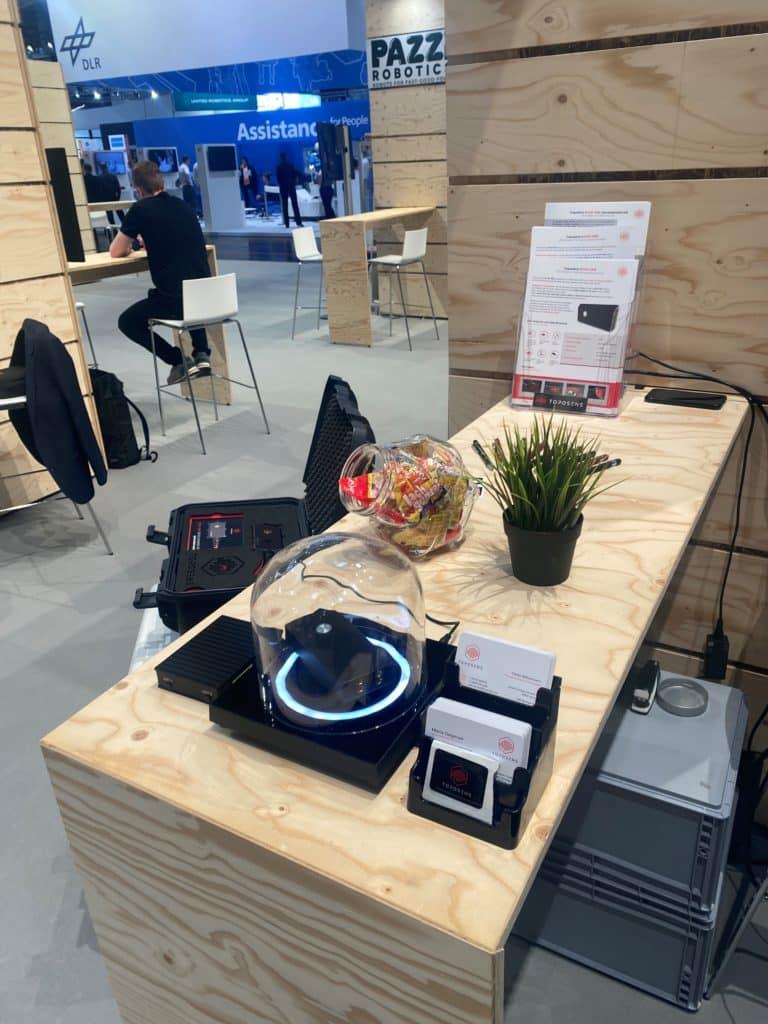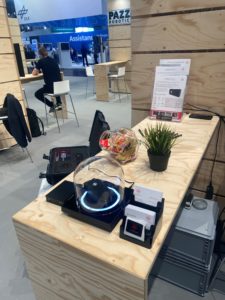 That aside, we were delighted to be presented with the opportunity to pitch our business case to possible investors during the Odense Investor Summit held on the opening day of the exhibition. Our Senior Marketing Manager Maria Degmair had the pleasure of presenting the 5-minute-pitch to a packed audience who was keen to delve deeper into the technology.
In a nutshell, both LogiMAT and Automatica turned out to be a game changer for us here at Toposens and we are thrilled to be exhibiting at both events again next year, among others, with Automatica 2023 taking place at the same venue from 27th – 30th June 2023.
To learn more, visit www.toposens.com.
For specific enquiries about our unique 3D ultrasonic sensor system and its applications, please get in touch with our experts.
---
About Toposens
Toposens GmbH was founded in Munich in 2015 and is made up of experts in embedded systems, hardware development, 3D sensing, digital signal processing, and machine vision. Together, they have successfully developed the worlds-first 3D Ultrasonic Sensor based on the principle of bionic, mimicking the echolocation techniques of a bat, to deliver robust, low-cost, and precise near-range 3D data points. Unlike existing sensor technologies, which can be negatively impacted by light conditions, reflections, and weather, Toposens created a system using real-time 3D data mapping and object recognition software to guide autonomous systems such as AGVs, even in the most difficult environments. Clients of Toposens include some of the world's leading companies in robotics and automotive. The company is an active accelerator in the development of safety-critical autonomy and is based in Munich, Germany with a presence in Sunnyvale, California. To learn more, visit www.toposens.com and if you are interested to know more about our unique 3D ultrasonic sensor and its applications, please get in touch with our experts.