Unleashing a New Era of Intralogistics: Toposens ECHO ONE® Takes Home the Coveted "Best Product" Title at LogiMAT 2023!
Reading Time: 3 Minutes approx. – 12/05/2023
We are thrilled to share some remarkable news that has made us burst with pride: We have been honored with the prestigious "Best Product of LogiMAT 2023" award at this year's LogiMAT exhibition, held at Messe Stuttgart once again. This recognition reaffirms our commitment to innovation and excellence in the field of intralogistics. It serves as a testament to all those years of research, development, and production we have invested into our groundbreaking 3D ultrasonic echolocation technology.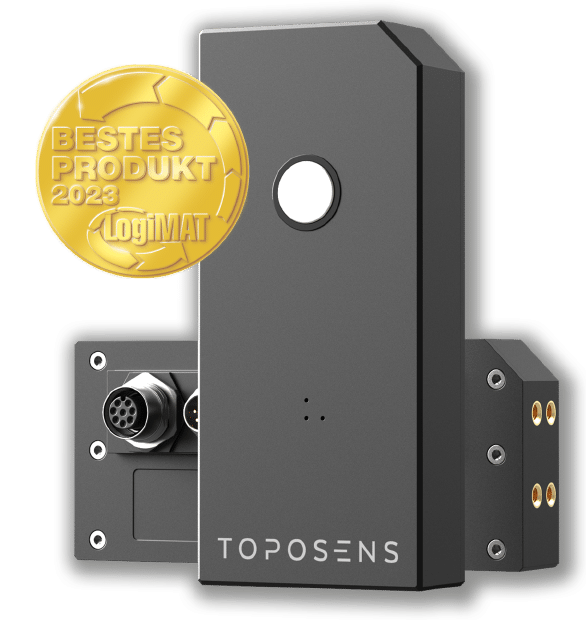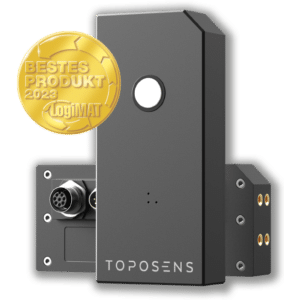 Designed for 3D collision avoidance in mobile robots operating within the intralogistics sector, this remarkable technology marks a significant advancement in ensuring safety and efficiency in automated warehouse environments.


Succeeding in our prime target market

LogiMAT, Europe's largest annual trade fair for intralogistics and supply chain management, attracts top industry professionals from around the globe. With a comprehensive showcase of cutting-edge products and solutions, the event is always a hub for industry pioneers to present their breakthrough innovations.
Being recognized as the best product amidst such fierce competition is an extraordinary accomplishment that fills us with immense pride, seeing as it signifies the industry's recognition of our relentless pursuit of excellence.
As we mark this momentous occasion, we would like to express our heartfelt gratitude to you, to all our customers, partners, supporters, subscribers and followers of our social media channels. Your continued support and enthusiasm have been instrumental in our journey!
Our team of hardware and software experts has poured countless hours into perfecting the Toposens ECHO ONE® system, aiming to create a revolutionary solution that pushes the boundaries of intralogistics. Combining advanced 3D ultrasonic technology, state-of-the-art signal processing, and robust IP67 construction, the sensor offers superb reliability, even in difficult environmental conditions. It empowers mobile robots to navigate complex warehouse environments with enhanced object detection, avoiding collisions and potential hazards, ultimately improving productivity and operational efficiency.


Looking Ahead


As we celebrate the success of the Toposens ECHO ONE® at LogiMAT 2023, we remain committed to pushing the boundaries of 3D ultrasonic sensor technology. We are immensely grateful that you trust in our vision. To reciprocate this trust, we will continue our commitment to driving innovation, investing in research and development, exploring new possibilities and refining our products. All in aid of meeting the ever-evolving needs of our customers. With the Toposens ECHO ONE® leading the charge, we are confident that we will play a crucial role in driving the digital transformation of the intralogistics sector whilst redefining efficiency standards for mobile robots.
Where to Meet us Next


We are going to be exhibiting at automatica in Munich next month. Visit us at our booth B4 326 for a chat and live demo from June 27th – 30th.
We can't wait to see you there and look forward to meeting old and new faces. This is why we are pleased to offer you a complementary ticket. All you have to do is send an Email to marketing@toposens.com with the subject: "automatica 2023 Visitor Pass"
You're welcome! 🙂
---
About MEYSENS
MEYSENS GmbH was founded in early 2023 out of Toposens GmbH (est. 2015) and is made up of experts in embedded systems, hardware development, 3D sensing, digital signal processing, and machine vision. Together, we have successfully developed the worlds-first 3D Ultrasonic Sensor "Toposens ECHO ONE®" based on the principle of bionic, mimicking the echolocation techniques of a bat, to deliver robust, low-cost, and precise near-range 3D data points. Unlike existing sensor technologies, which can be negatively impacted by light conditions, reflections, and weather, our system uses real-time 3D data mapping and object recognition software to guide autonomous systems such as AGVs, even in the most difficult environments.
To learn more, visit www.toposens.com and if you are interested to know more about our unique 3D ultrasonic sensor and its applications, please get in touch with our experts.